The natural beauty and serenity of ally located in the heart of King George County, Virginia, Presidential Lakes has over 800 homes scattered over 1000 beautifully wooded lots in four geographically separated neighborhoods.
Amenities include a swimming pool with a separate wading pool, a community center, a tot lot and playground, a large multi-purpose court, and picnic pavilions.  Lake Monroe has a boat ramp, beach and pyloned pavilion.  Another boat ramp and pavilion are located at Lake Madison, and a nature trail provides access to Lake Jefferson.

                                      Happy & Healthy New Year to All!!!



ALERT: COYOTE SIGHTINGS




     Please keep all trash in trash bins & keep bins closed/covered & secured




     Do NOT put trash bags outside (only in trash receptacles)




     Do NOT let small animals/pets out unsupervised, especially at night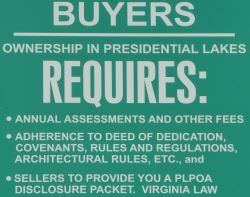 News & Information: Latest update August 26, 2020

Read here for the most recent communication for PLPOA community.

We ask that you only come to the office for urgent business such as paying assessments in order to limit interaction. Thank you! 



Office hours:  Monday – Friday / 8:30 am – 4:30 pm - Phone: (540) 775-7000
Office is closed Saturdays, Sundays & Holidays