The natural beauty and serenity of ally located in the heart of King George County, Virginia, Presidential Lakes has over 800 homes scattered over 1000 beautifully wooded lots in four geographically separated neighborhoods.
Amenities include a swimming pool with a separate wading pool, a community center, a tot lot and playground, a large multi-purpose court, and picnic pavilions.  Lake Monroe has a boat ramp, beach and pyloned pavilion.  Another boat ramp and pavilion are located at Lake Madison, and a nature trail provides access to Lake Jefferson


Dear PLPOA Residents: Lakes update: Lake has been treated for algae growth with copper algaecide and water testing came back normal (nothing of concern according to our lake management specialists).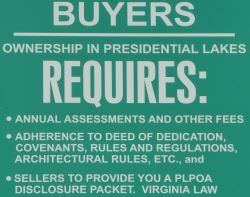 News & Information: Latest update August 2, 2021

Read here for the most recent communication for PLPOA community.


Even though CDC has relaxed regulations,
we still ask that you please wear a mask if you come to the office. Thank you! 



Office hours:  Monday – Friday / 8:30 am – 4:30 pm - Phone: (540) 775-7000
Office is closed Saturdays, Sundays & Holidays