The natural beauty and serenity of ally located in the heart of King George County, Virginia, Presidential Lakes has over 800 homes scattered over 1000 beautifully wooded lots in four geographically separated neighborhoods.
Amenities include a swimming pool with a separate wading pool, a community center, a tot lot and playground, a large multi-purpose court, and picnic pavilions.  Lake Monroe has a boat ramp, beach and pyloned pavilion.  Another boat ramp and pavilion are located at Lake Madison.



Recreation Tags: now available in the PLPOA office (2022 dues must be paid in full)



2022 Dues/Assessments - SEE BELOW
*As of September 1, the amount due is $870.23 to include late fee and interest will continue to accrue each month so total will change.
(We accept check, cash, money order or cashier's checks only for payment)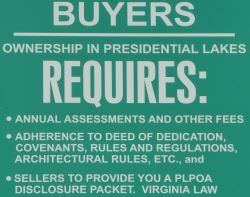 News & Information: Latest update September 14, 2022

Read here for the most recent communication for PLPOA community.


Even though CDC has relaxed regulations,
we still ask that you please wear a mask if you come to the office. Thank you! 



Office hours:  Monday – Friday / 8:30 am – 4:30 pm - Phone: (540) 775-7000
Office is closed Saturdays, Sundays & Holidays